About Us
TURF DEVELOPMENTS (WA) Pty. Ltd. are members of the Turf Grass Association, Lawnmowing Contractors Association and Turf Growers Association of WA.
We provide a complete diagnostic consultancy for all turf problems.
A Brief History ...
TURF DEVELOPMENTS (WA) Pty. Ltd. was founded in 1990. Managing Director and founder, Steve Lindsay, entered the turf industry from an extensive horticultural background.
One of the first contracts and one that we have retained over the years has been with the Water Corporation.
We have added to our business success by contracting to many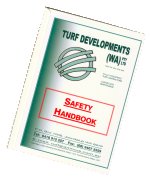 real estate developers.

An Experienced Workforce ...
Not only have we surrounded ourselves with highly experienced and well-trained people, we've been able to keep them. Some members of our staff have been with us since we commenced operations. We pride ourselves on a team in which everyone is committed to safety, quality and customer service.